Class II Correctors
Correcting Your Overbite
When to Use Class II Correctors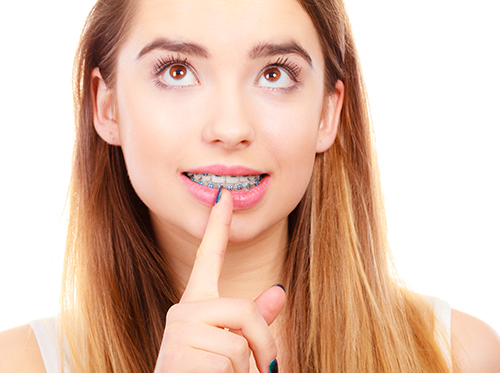 A Class II malocclusion (commonly called overbite) is one of the most common orthodontic cases treated today and occurs when the upper teeth protrude farther than the lower teeth and cause an uneven bite. More than providing an attractive smile, orthodontic treatment also corrects the alignment of the upper teeth to the lower teeth for a more integrated bite. This is called Class II Correction. The Class II Corrector appliances used in our office are comfortable and streamlined. They continuously apply light force without any need to make daily adjustments. They are easy to brush and clean with a regular toothbrush and clean with a regular toothbrush and are not visible to others.
You may notice some tenderness to your teeth, and even some of the muscles in your cheeks, and near your jaw joints. This is perfectly normal, and should last only three to seven days. Inside your cheeks may be irritated by the appliance until these areas have built up calluses. It is best to sleep on your back as pressure on the cheeks can cause irritation to the inside of them. Cotton rolls can help if placed under the axels. After the first few days, you will find this an easy appliance to wear. Chewing may be difficult the first few days because the corrector is changing the position of your bite.
Types of Class II Correctors
Used to enhance growth of the lower jaw in the forward direction, while at the same time applying pressure to the upper jaw in the backwards direction. This appliance is used while the patient is still growing and can be placed in the presence of baby teeth, approximate treatment time is 12 months.
PowerScope and forsus take just minutes to install and once on, deliver continuous forces to help efficiently and effectively align your bite. These appliances are used in conjunction with full braces and are in place for approximately 6-9 months.
Patient Care and Instructions
Brush all surfaces of your teeth and parts of your corrector after each meal, you may find it easy to brush your corrector if your mouth is not open very wide. Avoid wiggling your jaw or playing with your corrector, they are very fragile and this could result in breakage. If your corrector feels like it is locking, always use your tongue to push the arms to the side and unlock the appliance, do not force your mount opened or closed. If any part of your corrector breaks, please call our office at 705-671-6261 or email us at info@sudburyorthodontics.ca so we can assist you.